The Best Prices On Mobile scaffolding Hire Adelaide
ICS Scaffolding offers some of the best prices on mobile scaffolding hire in Adelaide.  We like to make painting, plastering and home renovations easy and our mobile scaffolds start at just $110 per week.  Being safe and comfortable whilst decorating, cleaning out the gutters or performing maintenance is easy and cost-effective with ICS Scaffolding hire.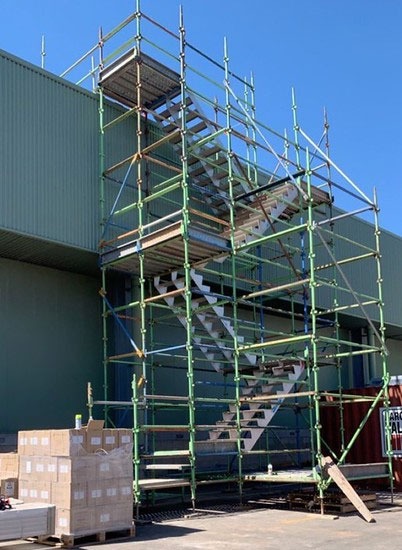 Mobile Scaffolding Hire From Just $110 Per Week
As a scaffolding hire specialist, you'll find our mobile scaffolding hire rates are a fraction of the price you'll pay from the big high street names.  You can get a weeks hire with ICS from just $110 + GST which is what most of the high street hire companies charge for a single day hire, so you can pocket huge savings.
Mobile Scaffolding Hire Costs
Internal or external, tall or small we've got the perfect mobile scaffolding rig for you.  We offer a range of different sizes and our hire costs are determined by the height of your scaffolding.   
Mobile Scaffolding Hire Rates / Price Per Week
(all widths and depths)
* All scaffolds above 4m high need to be installed by a licensed scaffolder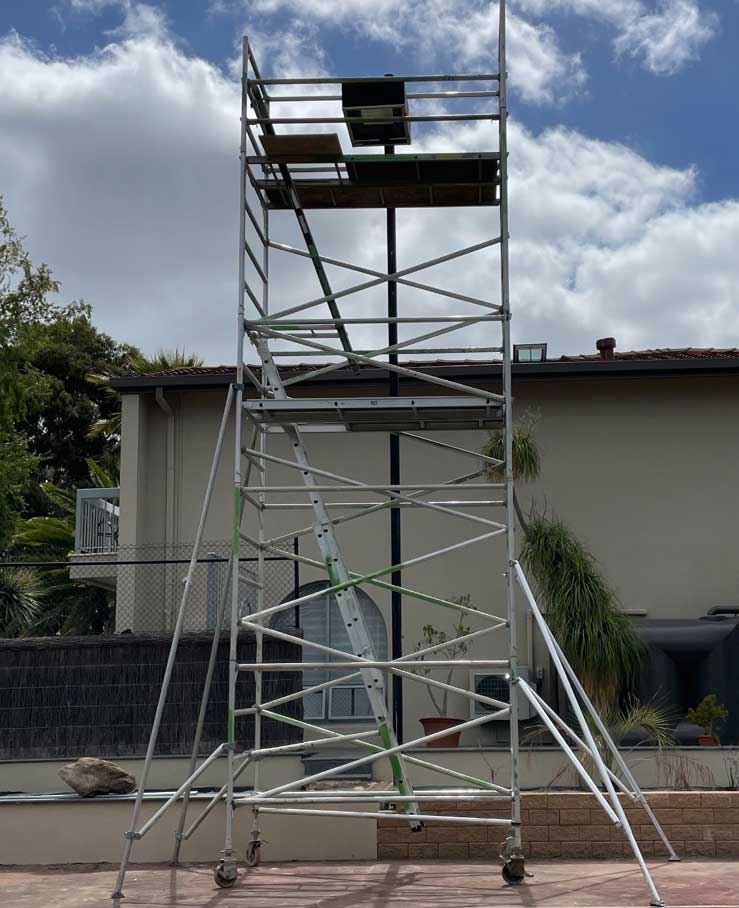 Mobile Scaffolding Hire Across Adelaide
Mobile Scaffolding – Easy DIY Installation
The mobile scaffolding we hire is made from lightweight aluminium and is quick and easy to build.  Each mobile scaffolding kit contains sidebars, braces and supports for the front and rear, castors, an extension ladder with hooks, guard rails, toe rail, a platform with a hatch and stabilisers. Download our installation instructions here.
Safe & Easy To Use Mobile Scaffolding
With an extension ladder running through the middle of the mobile scaffolding, climbing to the top is safe and easy.  The platform and hatch allow you to move freely around the workspace which is enclosed with guard and rails mid-rails for maximum safety.  Mobile scaffolds are supplied with toe rails) which help prevent equipment from falling or rolling over the sides) along with safety stabilisers for maximum stability.
Easy To Move
Mobile scaffolding comes with heavy-duty lockable castors to make moving and repositioning the rig quick and easy.  Simply unlock the castors, lift the stabilisers and wheel the mobile scaffolding into position.  Always lock the castors and make any adjustments to ensure the scaffold is level before using the rig.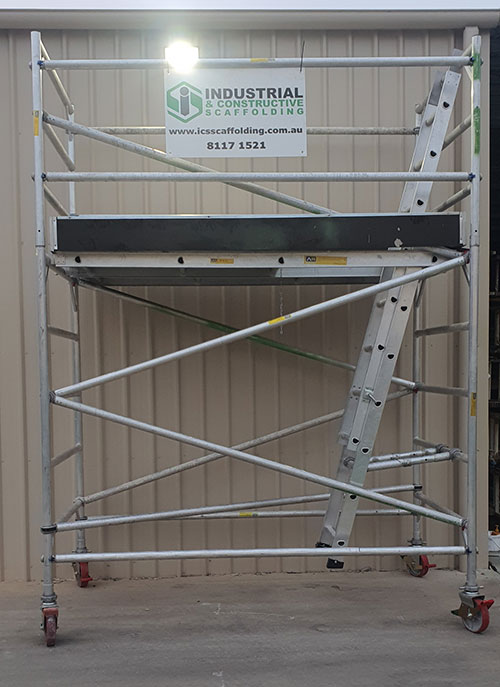 Mobile Scaffolding Width
Our mobile scaffolding comes in both 0.7m and 1.2m widths.  0.7m width mobile scaffolds are ideal for tight access situations and can be wheeled through most standard width doors (subject to height restrictions) in a house.  0.7m width scaffolding is suitable for one person whilst 1.2m wide mobile scaffolds can take 2 people. 

Safe Working Load (SWL)
The SWL (safe working load) refers to the amount of weight that the scaffolding platform can hold and this is shown below.
Mobile Scaffold Width
0.70cm – 225kg (light duty)
1.2m – 450kg (medium duty)

Mobile Scaffolding Length
Mobile scaffolding hire is available in lengths of 1.8m or 2.4m long.  The longer the scaffolding length the wider the area that can be serviced from the platform without needing to move the scaffold.

Mobile Scaffolding Height
Mobile scaffolds come in a range of heights from 1.2m to 6.0m.  The height figure given refers to the height of the platform that you stand on. The overall scaffolding height is typically 1m higher to allow for mid rails and guard rails for safety.
Scaffolding heights go up in 40cm increments and come in the following heights.
2m, 1.6m, 2.0m, 2.4m, 2.8m, 3.2m, 3.6m, 4.0m, 4.4m, 4.8m, 5.2m, 5.6m and 6.0m

Adjustable Platform Height
The sidebars on the mobile scaffolding have rungs similar to a ladder that support the working platform.  Should you need to work at multiple levels you can simply higher or lower the platform (in 40cm increments) to suit your requirements. 

Single & Double Storey Homes
A 4m high mobile scaffold is suitable to access heights up to 6m above the floor and is ideal for painting, rendering or maintenance work on a double-storey home.  A 2.0m scaffold is ideal for a single-story home and would allow you ample room to reach the roof or clean the guttering.
Mobile Scaffolding Made Easy
Hiring a mobile scaffold has never been easier and we offer daily*, weekly or monthly hire rates. (*minimum hire period 1 week).
Mobile Scaffolding Booking
Simply call us up and let us know what size mobile scaffolding you need and when you need it and we'll schedule your hire at a date and time to suit you.  The minimum hire period on mobile scaffolding is one week after which a daily or weekly rate applies depending on the period of your hire.
Mobile Scaffolding Collection Depot
If you need your scaffolding straight away or want to save on delivery costs then you are welcome to collect the mobile scaffolding from our depot at Cavan (near Gepps Cross, Northern Adelaide.  Collections are available Monday to Friday between 7 am to 3 pm (or by appointment over the weekend).  All mobile scaffolds up to 4m fit into a standard trailer or ute, however, you will need a roof rack to carry the extendable ladder.
Mobile Scaffolding Delivery Service
Our fast and friendly scaffolding team can deliver directly to your home and will collect the mobile scaffolding at the end of the hire period.  For a small additional fee, our licensed scaffolders can also take care of assembling the scaffold and packing it up at the end of the hire period.
Payment
For your convenience, we take payment by credit card or EFT.
Expert Help & Advice on Mobile Scaffolding In Adelaide
Planning to do some painting, rendering or home improvements but not sure what size scaffolding you need?  Simply call our expert scaffolders who will help and advise you on the best size of mobile scaffolding for your project.