Scaffolding Hire Adelaide
Specialist Scaffolding Equipment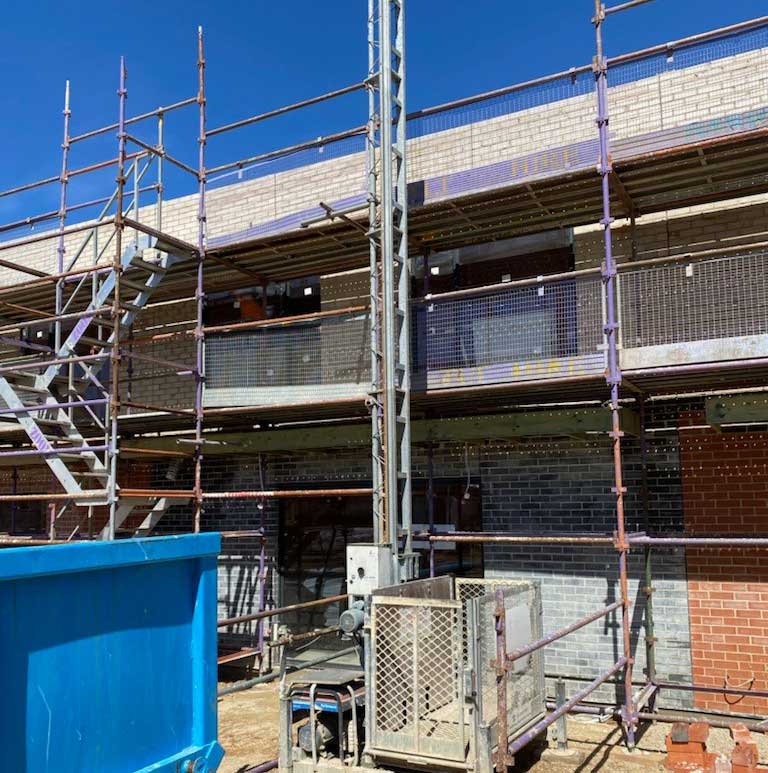 Stair Scaffolding
The ICS Scaffolding team are experts in designing custom stair scaffolding solutions to ensure you can safely work at heights in a stairwell.  Stairs are a critical safety structure in all commercial or residential multiple storey buildings as they provide a vital escape route in the event of a fire. 
Helping Clients With Stairwell Maintenance
Accessing the ceiling above the stairwell for maintenance such as changing the light globes or painting can be a difficult task which is where ICS Scaffolding hire can help.   We can work with your maintenance team to create safe stair scaffolding to ensure you can conduct your maintenance in a safe, efficient and timely manner.

Stair Access Scaffolding
Having a set of stairs to access the scaffolding on large multi-storey buildings provides a safe and convenient way for multiple trades to access the scaffolding and move equipment to where it's needed.  Moving equipment using the stairs is much faster, more efficient and safer than using a ladder.  Stair access scaffolds are also regularly used to provide access to the roof of industrial and commercial properties for essential maintenance works. 
Stair Access Sizes
ICS Scaffolding hire offers a range of stair access scaffolding solutions including single-width stairs (600mm) or double width stairs (1200mm) also called stretcher stairs.  All stairs conform to Australian Standards AS 1576-1, AS1657.   Stairs are available in 1.5m rises for 600mm wide steps and 1.0m, 1.5m & 2m rises for 1200mm wide steps.  
Material Hoist Hire
To make moving bricks, cladding and construction equipment easy, ICS Scaffolding have a range of material hoists available for hire.  Material Hoists are bolted onto the scaffolding and can lift materials to a height of up to 20m. 
300kg Load Capacity
Hoists can transport up to 300kg per load in a steel cage.  The cage capacity is roughly 1.4 cubic metres and its dimensions are 1.55m long x 0.9m wide x 1.0m high.  The hoist requires a 240v single phase power source or can be supplied with a petrol-powered generator.
Conveyor Belt Hire
ICS Scaffolding has a range of different sized builder's conveyor belts to ensure you can work quickly and efficiently on site.  Our 300mm wide conveyor belts are ideal for moving bricks, blocks or roofing tiles.  Our conveyor belts are 7.0m long and reach up to 5.0m high. They are powered by 240v single phase power or can be hired with a petrol-powered generator.

Void Protection Systems
The stairs are one of the last things to be installed when building a two-story home.  The space left for the stairs creates an open void between floors which creates a major falling hazard.  The team at ICS Scaffolding hire custom-design void protection systems to cover the stair void and create a safe working platform capable of holding 225kg.
Stair Void Systems Complete With Fixed Ladder
Void protection systems come complete with a stair ladder that is securely locked in place. This enables trades, contractors and site supervisors to access the second storey and safely work in, above or around the stair void.  Void protection systems can be configured to suit any sized void in residential, industrial or commercial buildings so you'll never need to compromise on site safety.
Swimming Pool Void Protection
The best time to build a swimming pool is just before the house is built as this provides unrestricted access for the heavy machinery needed to dig out the pool area.  Our swimming pool void protection covers are perfect to prevent the falling hazard created by the pool when inground concrete or fibreglass pools are under construction.
Complete Pool Coverage
Using void protection creates a safe working platform above the pool and completely encloses the void to create a safe working area for contractors.  Swimming pool void covers provide a hard and stable working surface across the top of the pool and can be designed for any shape and size of swimming pool.  Pool void covers can be designed with a light, medium or heavy-duty rating depending on your requirements.